Fishing Rods | Reels | Lures | Live Bait | Electronics
Step into our fishing high quality rods and reels with recognizable names like Shimano and Quantum. Our wide selection of hard baits, plastic lures and more from top companies like Berkley, Strike King, Rapala and Yum gives fisherman many choices for catching bass, walleye, catfish and more.
Kames also features the latest electronics and accessories like fish finders, anchors and life jackets for your boat….so you are ready for a day on the water!
Take a Kid Fishing Photo Contest
Grab your cameras – the contest has already started!
Last day to submit pictures is September 14th, 2014.
Contest Rules:
1. Photo must be of the child in a fishing related setting.
—– No fish needs to be in photo.
2. Photo must be a picture taken within the last calendar year
3. Each photo must be accompanied by an entry form
4. Standard sized photos only, please.
5. Only one photo per child can be entered
6. Must be age 12 or under
7. Submitted photos will become property of Kames Sports and
may be displayed in the store as well as on our website(s).
8. Only one prize per kid will be awarded
Grand Prize:
A complete outdoors outfit!
Tent
Mess Kit
Rod & Reel
Tackle
Cooler
Canteen
Fishing Cap
Fishing Net
Light
Sleeping Bag
Tackle Box
Bait Bucket
FIRST PRIZE:
Complete Fishing Outfit,
including the following:
Rod & Reel
Tackle Box
Landing Net
Bait Bucket
TWO 2nd PRIZES:
Rod & Reel
Tackle Box
Tackle
FOUR 3rd PRIZES:
Rod & Reel Combo
(20) 4th PRIZES:
Tackle Box with tackle
Entries will be accepted thru September 14, 2014
Entry forms are located at the fishing counter.
Whether you are sitting pond-side catching crappie and bluegill, trolling for walleye on Lake Erie, or chunkin' and grinding on the local bass tournament trail, Kames has the latest gear to fill your tackle boxes and rod racks…along with a few tips on filling your livewells and freezers, too!
Kames supports fishing in the community too! From kids derbies to team support for local tournament anglers, Kames gives back to the community so they can keep doing what they love to do and passing it on to future generations.
The Better Half Tour is designed with the ladies in mind: nice bathrooms, later start times and shorter hours make this a great way to introduce bass fishing tournaments to ALL ladies – she can be your mother,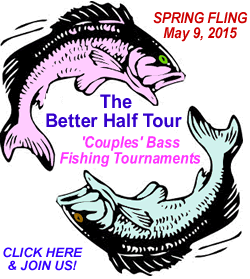 friend, daughter, or sister, but she MUST be in the boat with you to fish this tournament!
Ladies, if your guy loves bass fishing, why not surprise him by signing up for the tournament with him? It's a great way to spend quality time together, and Portage Lakes offers the perfect setting; idle only, so no high speeds or rough boat rides. We also chose a later start time, shorter overall time, and the park with nice bathrooms with flush toilets, electricity and sinks.
Whether you want to see what this 'bass fishing tournament" thing is all about, or you're a seasoned tournament angler, we invite you to join us for a fun day that's full of boating, bonding, and (of course), BASS.